Hoog boven de stad Bouillon, tegenover de burcht van Godfried, sleutelfiguur van de eerste Kruistocht, biedt het hotel Cosy u elf bekoorlijke kamers in een uniek kader.
In ons idyllisch restaurant laten we u graag genieten van een heerlijke maaltijd, met passie voor seizoensproducten bereid door onze chef.
In onze wijnkelder hebben we een mooie selectie aan wijnen.
's Morgens hebben we in onze ontbijtzaal met waterval een heerlijk ontbijtbuffet voor u, met vers fruitsap, croissants, lokale specialiteiten, verse pannenkoekjes, scharreleieren...
In de buurt van het hotel kan kosteloos geparkeerd worden. Er is ook een gratis garage voor de fietsen. In het volledige hotel is er gratis wifi.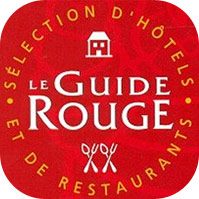 Come and visit us on www.hotelcosy.be
And book your stay online!
Visit the birthplace of the FIRST CRUSADER and King of Jerusalem! Godefroy of Bouillon!