ANIMA Cultural Center by Bernard Tschumi Architects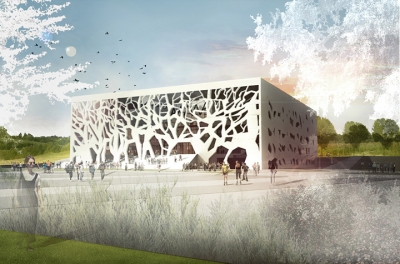 Project:
ANIMA
Cultural
Center
Designed by
Bernard Tschumi Architects
Client:
Fondazione Cassa di Risparmio di Ascoli Piceno, Municipality of Grottammare Sole project manager: Marco Marcucci – Municipality of Grottammare
Site Surface:
9 225 m2
Building Surface:
7 190 m2
Covered Surface:
6 150 m2
Maximum Height:
30 m
Location:
Grottammare,
Italy
Website:
www.tschumi.com
Practice
Bernard Tschumi Architects
shapes the
ANIMA Cultural Center
located in Grottammare, Italy. The plan simply forms an ideal square (72×72 meters) with the Main Room located in the centre. View more of the design after the jump:
From the Architects:
On the inside, we made the plan like an ideal square (72×72 meters) with the Main Room in the middle. By rotating the Main Room slightly, we generated a sequence of four trapezoidal courts, or cortili, places of social encounters and gatherings. On the outside, we anchored the four facciate of the ideal square firmly into the ground and proceeded to carve openings into each, according to orientation and use. By being abstract and figurative at the same time, we avoided conventional façade composition, giving a strong and creative presence to the ANIMA building. The image of both the front facade and the fifth facade (the roof) is a work-in-progress and will evolve with further technical studies.
Together, our two concepts of cortile interior and facciata exterior result in a building both simple and with a striking presence. It pay homage to major contributions from the Italian cultural identity and to Grottammare.