Le Clos Fleuri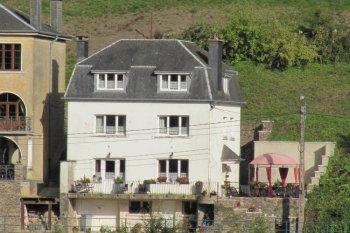 This renovated holiday home is located in the hills around Bouillon, with a view of the medieval fort. The modern kitchen is equipped with all necessary equipment. You can enjoy the sun on the south facing terrace.
Thanks to the tourist train stop right on the doorstep, you can zip right to the centre of Bouillon. Sports lovers can also track the old railway bed on foot right into the centre of town.
This area is known for its beautiful walks in the forest. You can also kayak, pedal boat or fish on the Semois. Gastronomic pleasure is certainly recommended in the game season (autumn). In short: something for everyone.
Package Deal
Rent the vacation house with half board!

Price per night per person, full hotel service, inclusive of breakfast and a 4 course diner

As of 55 Euro per person per nicht (excl. drinks), minimum 4 persons
Book the Holiday Home
+32 (0) 61 460 462
+32 (0) 491 34 08 97