|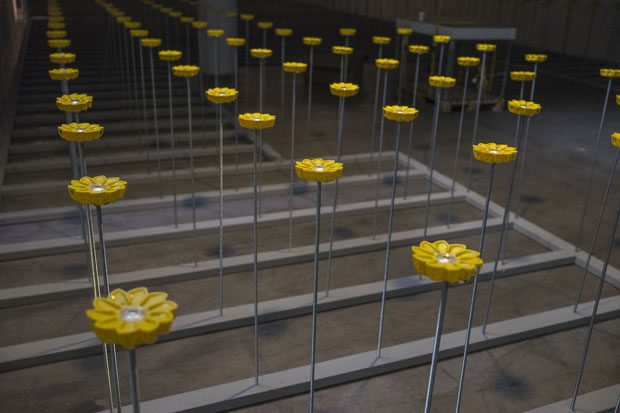 Virgil Abloh, Naomi Campbell, Peter Saville
and
Nick Knight
have taken part in
Enlightenment
, a special project during the
Copenhagen's International Fashion Fair
Spring-Summer 2019. To raise the awareness of the global
Little Sun Project,
they will create unique pieces of work inspired by the power, influence and beauty of light. The Little Sun Foundation was founded in 2012 by by renowned artist
Olafur Eliasson
and engineer
Frederik Ottesen
. It works on bringing solar energy to communities in Sub-Saharan Africa.
I believe that everyone has the basic right to breathe in clean air. So many families around the globe are forced to breathe in toxic kerosene fumes due to the lack of access to electricity. The solar-powered lamps that the Little Sun Project provide can improve their health as well as protect our environment. I hope that the art created by Peter Saville and I for ENLIGHTENMENT, will raise awareness and highlight the impact of the great work that Little Sun do." Naomi will also be donating 1000 blankets created by Woolrich to Centre Point. "Centre Point provides health support, life skills as well as accommodation for desperate young people. It seems that blankets created by Woolrich are such a basic need and would seem to be something really practical I could do to help. This year's Fashion for Relief was all about the right to equality and that surely includes basic housing and the right to a decent life. – Naomi Campbell
Virgil Abloh will be creating a special limited edition of the Little Sun Original lamp. Naomi Campbell and Peter Saville have joined forces to create ten original artworks, featuring model's favourite inspirational quotes designed by Peter Saville Studio and painted on blankets provided by Woolrich; while Nick Knight be showcasing a new short film "The sound of lights own destruction / 2" created exclusively for ENLIGHTENMENT with a key focus on light.
ENLIGHTENMENT featuring works from Virgil Abloh, Naomi Campbell, Peter Saville and Nick Knight will be on show exclusively at Copenhagen's International Fashion Fair Spring-Summer 2019.
Discover more after the jump: