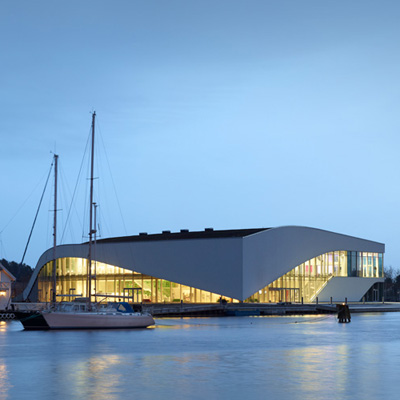 Project:
"The Arch"
Cultural
Center
Designed by
3XN
Engineer:
Rambøll, Norway
Landscape:
Asplan Viak, Norway
Theatre Technique:
AIX architects, Sweden Art Decorations: Marianne Bratteli "Chaos and Gaia", Norway
Size:
approx. 4 500 m
2
Floors:
2
Location:
Mandal,
Norway
Website:
www.3xn.dk
Denmark based
3XN
architects are sharing with us their design for
The Arch
cultural center in Mandal, while creating the solution they successfully managed to display both elegance and conviviality. With its cinema, theater, concert hall, library, gallery and caffe
The Arch
becomes the new focal point in this town of 15,000 inhabitants.
From the Architects:
Elegance and conviviality merge under The Arch in Mandal, Norway. Historic white wooden houses, charming narrow streets, a river running though the center and beach and forest nearby. The town of Mandal is the essence of southern Norwegian idyll. Danish practice, 3XN, has designed the town's new cultural center, a project which required great sensitivity to the town's special environment.